| Type | Pricing (USD): | Sketch Only | Flat Color | Full Color |
| --- | --- | --- | --- |
| Bust | $20 | $30 | $45 |
| Thigh High | $35 | $45 | $60 |
| Full Body | $55 | $65 | $80 |
Additional Fees may still apply.
Base price includes: 1 character, 2400x3000 px 300 DPI .PNG file, solid/simple or transparent background. 2 versions will be sent to the client: 1 with watermarks for sharing to social media with credits, and 1 without watermarks at highest resolution.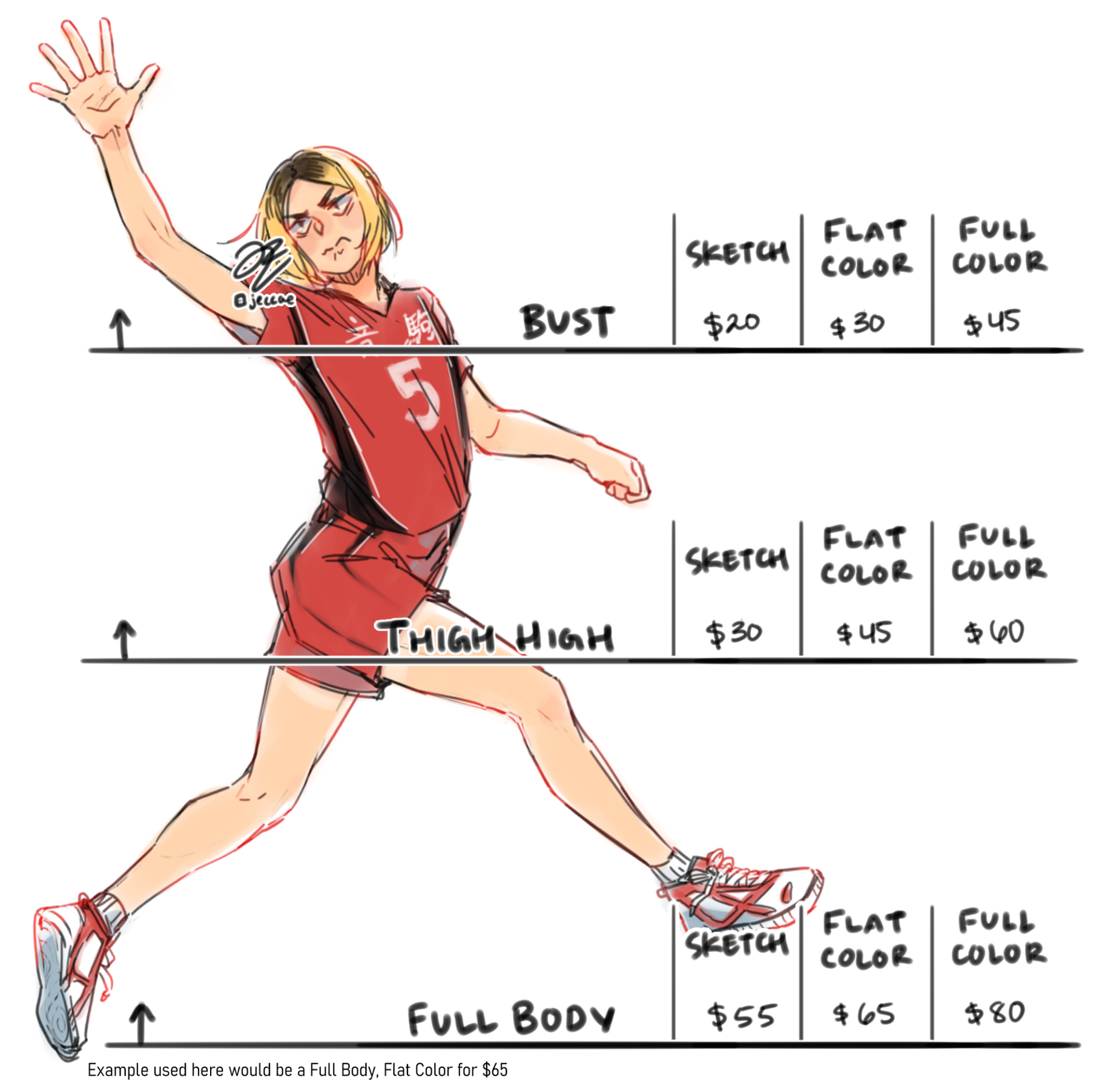 Optional Fees & Add-ons
Fee/Add-on Type
Addtl. Charge Amount/Range
Description
Add Background
+$5 - $30
Depends on complexity of background. Complexity is per JeccaE's discretion.
+1 Character
+50% of base price
i.e. 2 characters for Full Body Sketch option would be:
$82.50 = $55 + ($55/2)
Revisions:
3rd(+) Minor

Major
+$5 per revision prior to completion
+$10 per revision after completion

+$30 for all major revisions
Base prices includes 2 free minor revisions before completion, and 2 free minor revisions after. After 2, a fee will be charged per each revision.

All major revisions require an additional fee. What is considered a minor or major revision is per JeccaE's discretion.
Detail/
Complex
& Portraits
+$15
Additional fee for portraits of a real person and if a character's design is complex or detailed. Complexity or detail is per JeccaE's discretion.
Rush Order
+$50

MUST be discussed with JeccaE- you cannot just tip an extra $50 and expect it to be considered a rush order.
If you need the commission done within 14 days from payment date.
Deadlines earlier than 5 days will be declined.
Commercial/
Branding Use
Varies
Must be discussed with JeccaE
| OK: | NO: |
| --- | --- |
| Slight NSFW (fictional only) | Other artist's style |
| Couples (must be legal) | Armor/Weapons |
| Kemonomimi | Animals |
| | Anthromorphic |
General Commission Process
Initial request sent via the form below or DM

Discussion/Quote

If accepted, invoice sent via Paypal

Confirm payment

Sketching & Base Colors

WIP(s) approved by client

Color, Render, Completion

Final artwork sent via Google Drive
Request Form
Thank You
Your message has been sent.
Please check your e-mail regularly for my response!
- JeccaE
If you have not received a response within 5 days,
please feel free to send a follow-up e-mail or DM!
TERMS OF SERVICE
JeccaE has the right to decline any commission for any reason.

References of characters are required. You do not need a character reference sheet, but art/images of that specific character must be provided. Description ONLY, or "mood board" ONLY inquiries will not be considered.

When the commission is accepted, JeccaE will send the client an invoice to pay within 10 days of the invoice being sent.

Full payment is upfront; JeccaE will begin the commission after receiving payment.

JeccaE is not obligated to contact the client if payment is not received, but may do so as a courtesy. A commission with no payment within 10 days of invoice date is assumed to be cancelled.

JeccaE will send the client a sketch, or multiple sketches, which will require the client's approval before moving further. If there are any changes needed, the client must let JeccaE know at this point. After approval(s) have been received, no major changes can be made to the commissioned piece (minor changes such as color correction is fine). JeccaE will not continue working on the commission until a response is received from the client.

JeccaE is not obligated to contact the client if no response has been received, but may do so as a courtesy.

The client cannot cancel the commission/receive full refund once it has been started, BUT if discussed, only JeccaE may cancel/refund as they see fit.

No refunds will be made if a commission is abandoned by the client (no response from the client was ever received in order to continue working on the commission).

No refunds will be made after the final commissioned piece is completed. No exceptions.

If the client needs the commission done before a certain day, please consider this before commissioning. JeccaE will not accept any commission needed to be completed in less than 5 days of time. If no deadline specified, JeccaE will work at their own pace.

Rush orders (final artwork completed in less than 14 days) must be discussed first. The client cannot just tip the extra $50 fee and expect the commission to be a rush order. Rush orders can be declined for any reason.

The commissioned art is for personal use only unless otherwise discussed.

Commercial use or use for branding on monetized social media platforms (i.e. Twitch, YouTube, etc.) of the commissioned art may be discussed, and will have additional fees (including but not limited to: emotes for Twitch Subscriptions, images for Twitch Panels, channel mascots on video overlays/elements, images in advertisements or promotions).

JeccaE will send 2 versions of the final commissioned artwork via Google Drive link. One version will have watermarks meant for sharing to social media if the client so pleases; the other version will not have any watermarks. The files will be accessible a week after completion after which they will be unavailable.

Posting the watermarked version of the commissioned artwork to social media with credit to JeccaE is permitted. Credit by a direct link to, or mention of, JeccaE 's social media is preferred. (IG: @jeccae, Twitter: @jeccae_)

The client or any other persons/entity may not modify, alter or edit the final commissioned artwork.

The commissioned artwork is not to be used in edits, copied or traced.

The commissioned artwork cannot be claimed by the client as their own work.

Printing the commissioned art for personal use is permitted, but mass printing for sale or distribution is prohibited.

Unless specifically requested otherwise by the client, any commissioned artwork can and may be uploaded to JeccaE's social media and/or site for any reason.

If any of these terms have been violated, JeccaE will kindly attempt to contact the client in order to resolve any issues. If no solution met, the client will be blacklisted and will not be able to commission JeccaE in the future. Other artists will also be cautioned of the client.
May I use your post/art as my profile pic?
Yes. Please do not edit my post/art, and please credit me in your bio by mentioning @jeccae on Instagram, or @jeccae_ on Twitter/TikTok.

May I use your post/art in my edit?
No

Do you allow reposts?
No. If you want to share my art please either share my post to your story on Instagram or retweet it on Twitter, or copy a link to the post directly.

What's your stream schedule?
I don't have a set stream schedule, however I do try to stream at least once a weekend. I usually stream at night on Fridays or Sundays, or early mornings on Saturdays.

What program/tablet do you use?
On PC, I use a Wacom Cintiq 22 with Clip Studio Paint EX. Sometimes I use an iPad Air Gen 5 + Apple Pencil 2 with Sketchbook (app) for doodles and sketches.

Are your commissions open?
You can check my commissions status here!

Do you take requests?
Only if you are a subscriber on Twitch (for the 1st month and every 3 months after that), you can request a sketch to be done on stream.

What brushes do you use?
Currently in CSP, I am using Pen+Caspar Pen for sketching/lines, and Qamala's Graphic Marker for coloring (a pencil textured brush and a marker brush).

Did you go to Art school?
No, but I did take some art classes. In high school, my elective was usually Art or Digital Media, but for university I studied Biology.

Do you do Art full time? Do you want to?
No, and no. I respect and admire those who are full time Artists and their skill pays the bills, but that's not a lifestyle I can live. Art is something I do mostly as a hobby, so any money I get from art goes right back into making more art.

Where do you get your stickers?
The stickers I have on my online shop were ordered from StickerApp. But now I am learning how to make my own stickers at home.

Where are you from?
I'm a Filipino-American from south central Texas.